The Atlantis Resort! What I consider to be The Walt Disney World of The Bahamas and the ultimate playground for people of all ages. The resort features the world's largest open-air marine habitat; Aquaventure, a 141-acre water park, including the iconic Mayan Temple's Leap of Faith slide; 11 incredible pools; five miles of magnificent beaches; a Tom Weiskopf-designed 18-hole, oceanfront golf course; and a world-class casino.
The construction and theme was inspired by the mysterious lost city of Atlantis and the legend surrounding it. There are six distinct properties with its own unique character and with more than 3,800 guest rooms aimed at appealing to nearly every type of traveler and budget – The Royal Towers, The Beach, Harbor Side Resort, Coral Towers, The Cove and The Reef.

The Rooms at The Royal Towers

I chose to stay at the iconic Royal Towers which soar over the sugar white sands of Paradise island with its twin flamingo-pink towers, connected by a bridge near the top. It's the central hub for accessing all of the resorts fun and exciting highlights. Staying here helps bring the walking down to a minimum and it makes catching the resort shuttle a breeze. You will have an easier time accessing Aquaventure and the marine exhibits/habitats, Dolphin Cay, Atlantis Casino, the Mandara Spa, the Dig & Ruins Lagoon, fitness center, restaurants, and other attractions that form the centerpiece of the Atlantis experience.
The rooms in the Royal Towers are much larger compared to the rooms at The Beach and Coral Towers. I stood in the Regal suite which provided sweeping views of the Caribbean, harbor, and marina. Amenities include a large master bedroom with a king size bed and two walk-in closets, plush chair, air conditioning, flat-screen HD TV with cable programming, ipod dock, minibar, coffeemaker, and 24-hour room service. Every Regal suite features a full or french off-bedroom balcony that opens to harbor or ocean views and a large parlor that provides a living area where vacationers can sit back and relax in the suite's luxurious surroundings.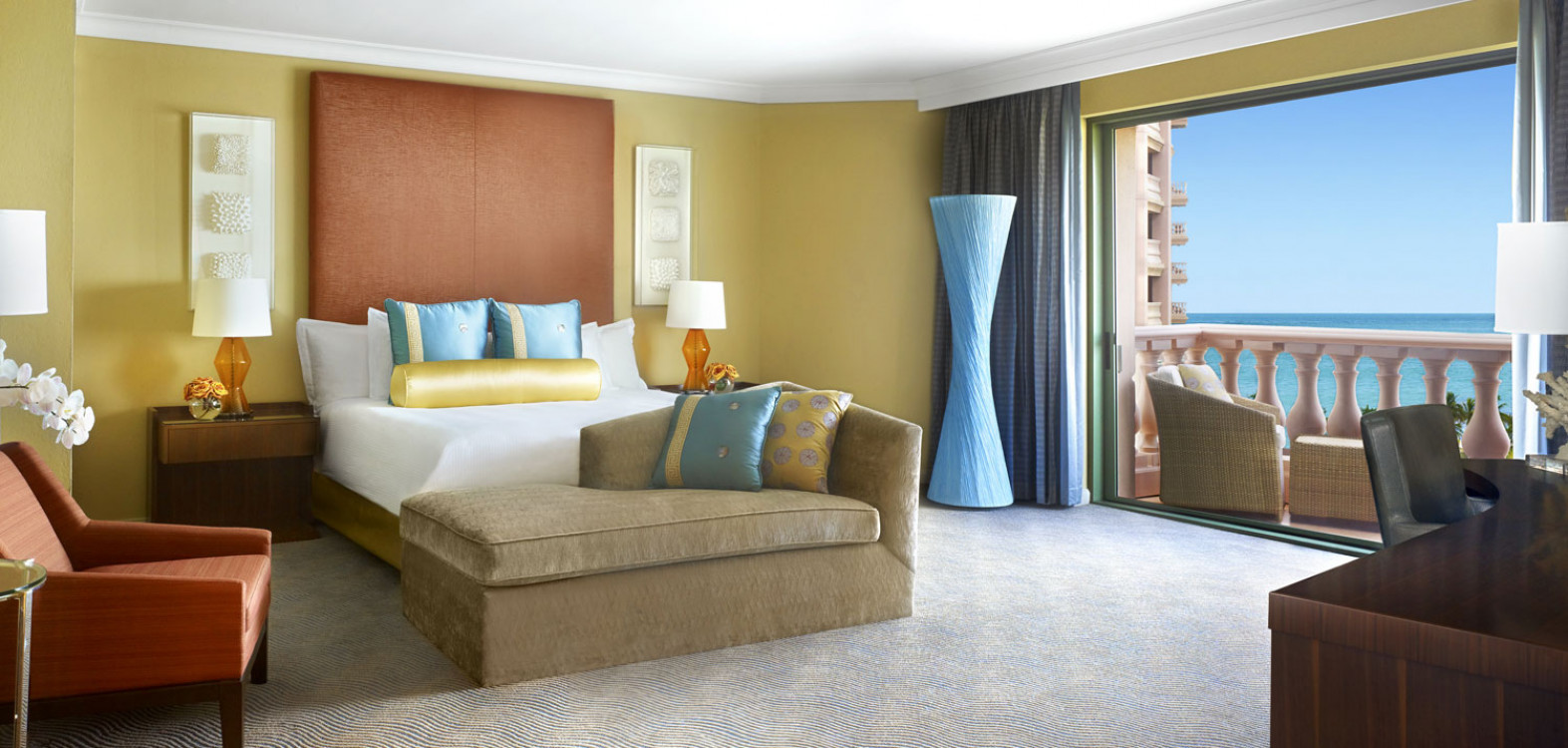 Eateries

The Atlantis complex has 21 restaurants + 19 bars and lounges. Reservations can be made up to 90 days in advance for all fine dining restaurants. Cuisine types include: Buffet, Asian, Italian, American and French. Expect beautiful views as you dine at any of their restaurants. You also have your grab-and-go eateries such as Ben & Jerry's, Starbucks, Pizzeria, and much more.
The resort offers 2 dining plans (Aqua vs Trident).
The Aqua dining plan offers free breakfast (American vs Continental) and a two-course dinner from a choice of 10 restaurants.
The Trident dining plan offers free breakfast (American vs Continental) and a three-course dinner from a choice of 17 restaurants, including Celebrity Chef restaurants!
For more info on the dining plans visit here .
Activities

Taking a stroll along the shore was something I would do every morning. It was such a therapeutic way to start the day and enjoy the beach without having to deal with hoards of crowds. 😉
Some other really great activities that I enjoyed besides the Aquaventure waterpark and marine exhibits was their movie theatre, library, and spa. They also have a rock-climbing area, pottery studio, tennis court, and fitness center. Throughout the year Atlantis hosts a variety of scheduled live performances for their concert series from top music performers such as Katy Perry, Justin Bieber, Taylor Swift, Kelly Clarkson, and many more! It's a win-win if you plan your getaway to coincide with a concert. How awesome would it be to see your favorite artist while being on vacation in the bahamas!?

Tips / Things to know
The Royal is not an all inclusive resort.
You can expect to pay $300-$400 a night for a room in The Royal towers during peak season (Feb-Apr, Jul-Aug, and Nov-Dec).
The resort fee is about $55 + 12% tax.
To get to Atlantis and the Royal towers from Nassau airport (Lynden International Airport), you can take a taxi ($38 per ride (2 people) + $2 per bag), limo ($100 per ride), or schedule a tour with the resort ($68.74 for 2 people).
Dolphin Cay activities include swimming with dolphins, trainer programs, snorkeling in Ruins Lagoon and interacting with sea lions.
Atlantis created the Atlantis Blue Project Foundation to fund scientific research, community outreach, and conservation programs.
Charges apply for water sports equipment rentals.
The closest pools to The Royal towers are Ripples and Royal Baths.
Pools are open from 9 a.m. to 5 or 6 p.m.
Private cabanas available at several Atlantis pools (charges apply).
The lobby at The Royal towers is home of the year-round Junkanoo Fest + Feast, welcoming guests to participate in this Bahamian music, dance and costume ritual while tasting authentic Bahamian cuisine.
Guests who aren't staying overnight on Paradise island are welcome to purchase day passes for the resort grounds, Aquaventure water park, and /or beach. For more info visit here.


Practical Info
Address | 1 Casino Drive, Paradise Island, Bahamas
What's nearby | The Dig and Ruins Lagoon, Aquaventure, Cove Beach, Cabbage Beach, Blue Lagoon Island, Cable Beach, Paradise Island Golf Course, Ocean Club Golf Course, Straw Market, Queen's Staircase, Versailles Garden
Number of Guest Rooms | 1,201
Restaurants & Bars | 21 restaurants + 19 bars and lounges
Swimming Pools | 11
Services & Amenities | Shuttle, Room Service, Concierge, 24-Hour Reception/Security, Airport Transportation, Air Conditioner, Yoga & Fitness center, Tennis court, Beauty center, Spa, Meeting rooms, Laundry/Dry cleaning / Ironing service, Luggage storage, Babysitting services , Daily housekeeping, Tour / Ticket assistance, Currency exchange, Wedding service, Game room / Arcade, Cabanas
Parking | Private parking is possible on-site (reservation needed) and charges apply.
Accessibility | Facilities for disabled guests, Wheelchair accessible and toilets with grab rails
Internet | Wifi in the hotel rooms (free)
Pets | Not Allowed


If any of you guys have any questions about this resort, let me know! I would love to answer or help in any way. 😊
P.S. I dedicated an Instagram story highlight just for the Bahamas so definitely check that out to see most of what I talked about on video.